Doro Pesch

Photos, videos, interviews
No one less than the mighty Gene Simmons from Kiss had helped German Metal Queen Doro to tighten her sound and in the year 2000 Doro Pesch had teamed up with Juergen Engler from the Band Krupps and they did a great live and unplugged set with also the legendary Boxers Vitali and Vladimir Klitschko in the house.
In additon Doro Pesch had been performing often for the NFL and several videos show her great versatility, which even includes being on stage with a symphonic orchestra.
In her video interviews Doro had talked about her music, her concerts and her music.
Doro Videos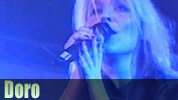 Doro Live conzerts and interviews

Love me in Black - Live with the Krupps
Video
Never - Live with the Krupps
Video
Zum Thema Klassik
Video Interview 2002
We are the Champions with orchestra
Video 2002
World Bowl 2000 Burn it up
Video
Doros Rhein Fire Song Burn it up
Video 2000
Doro Pesch Interviews
Doro 2000
Video interview 1
Doro Pesch
Video interview 2